About Me
I do custom orders! I can also personalize any item. Contact me via the "Contact" link at the bottom of the page to share your idea.

Since I was a little boy I have always enjoyed working with my hands. During my childhood and into my teenage years I looked forward to our trips to Michigan as it gave me an opportunity to create things in my uncle's woodshop. As you'd expect they were typical things a teenage boy would create; a table to organize my computer's floppy disks (back when you used floppy disks for computers :-) ), and nunchucks. In July of 2012 my wife wanted a clock in our sunroom that was nice looking and about 18" in size. I did some searching, but couldn't really find anything that I liked that was of good quality and not made in China. So, I finally decided that I should buy some brazilian cherry and maple and create one myself. Here's the clock I created for our sunroom: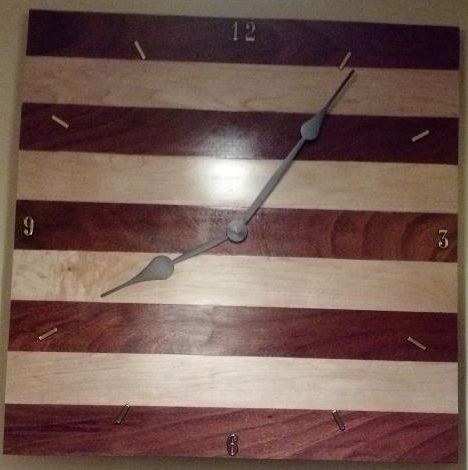 After creating this clock, I created a few other clocks for various parts of our house, and shared pictures of my creations with my friends. Based on the support and encouragement of my friends and family I started Olney Quality Woodcrafts LLC in May 2013 and began selling my woodcrafts at various markets and craft fairs. Initially I started with clocks, but now I have evolved into many other wood items including wine glass holders, coasters, cheese boards, signs, cutting boards, trivets, and custom items.
My goal is to make items that are beautiful but also practical. I look forward to working with you soon! -- Pete Carlson